English Deutsch
---
Info Letter No. 58 - November/December 1999
Copyright by HEXAGON Software 2000
by Fritz Ruoss
---
GEO4-Software for Cams and Cam Disks
GEO4 calculates cam radius, speed and accelaration of the ram for conversion of rotation to linear movement by cam or cam disk.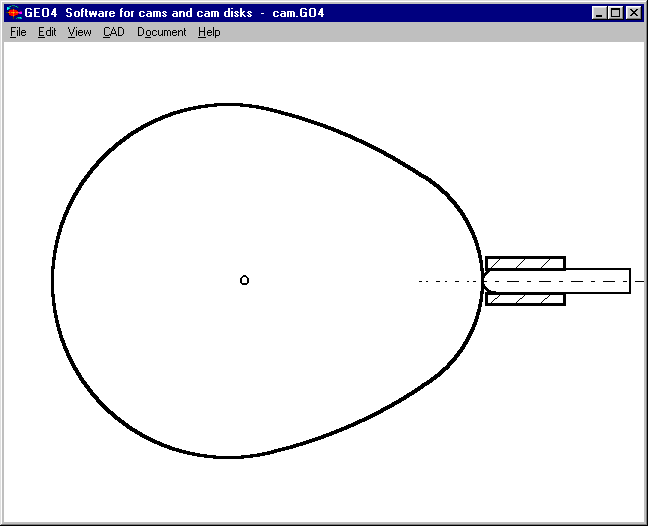 The cam geometry may be defined by inputting the coordinates of straight lines or circular arcs, or it can be imoported as polyline from DXF files. Or you can define special shapes: ellipse, sine curve, sine-linear curve. Or you can enter the cam curve by mathematical functions. The new ZAR4 software for noncircular gears will use this input dialogues for defining the pitch curve.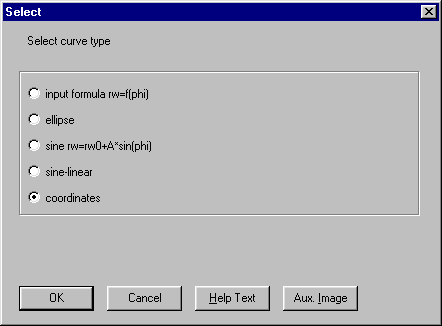 Cam radius as well as speed and acceleration of the ram can be displayed and printed as diagram.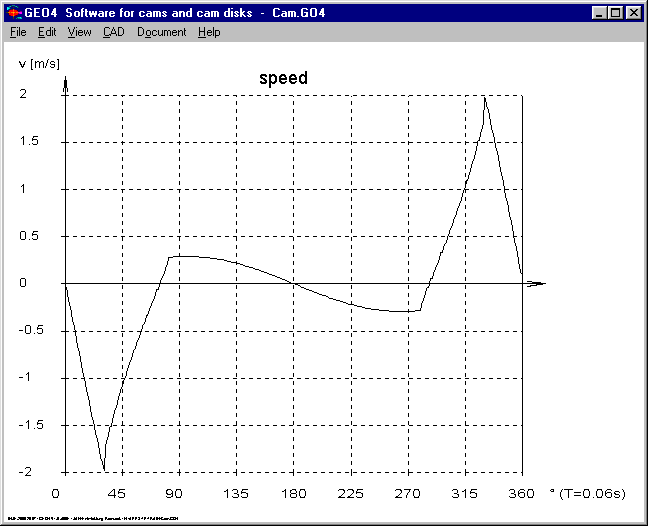 By an animation, rotation of cam and movement of ram may be simulated on screen. A table drawing with geometry and essential results may be printed as DIN A4 drawing.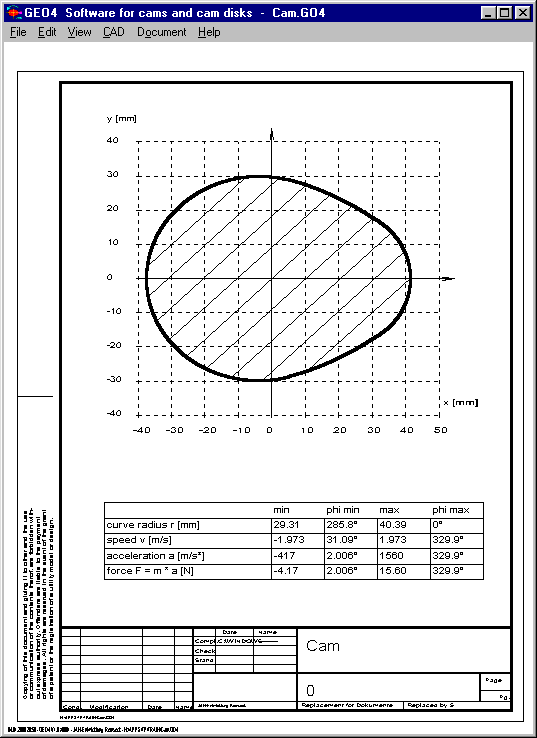 TOL1-Free Size Tolerance
If upper and lower tolerance were defined 0, TOL1 replaced it by the free size tolerances until now. With the new version, tolerance 0 stays 0. To let TOL1 calculate free size tolerance with the new version: click to nom.dim, then "Calculate".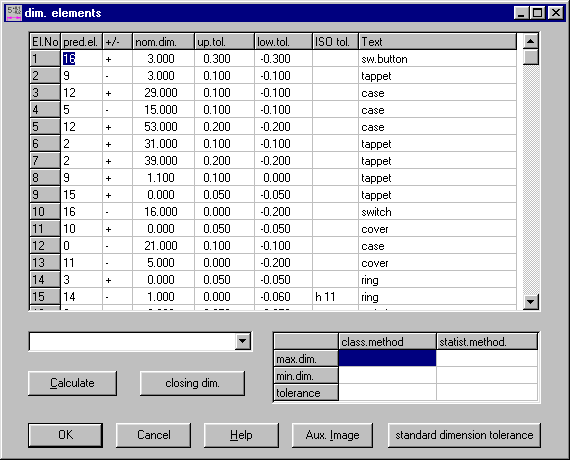 TOL1 – Tab key at Element Table input
By means of the Tab key the cursor jumps to the next field of the table.
ZAR1+ Load Spectrum
Maximum items for load spectrum was increased from 12 to 128. An Up/down-button lets you jump to previous items. Thanks for his improvement suggestions to Mr. Marte from Windtec, Völkermarkt.
WST1 – GG-30
The WST1DYN database contains a wrong value for pulsating strentgh bending (Sigma b sch) of GG-30. Please change the value 130 to 225 N/mm˛.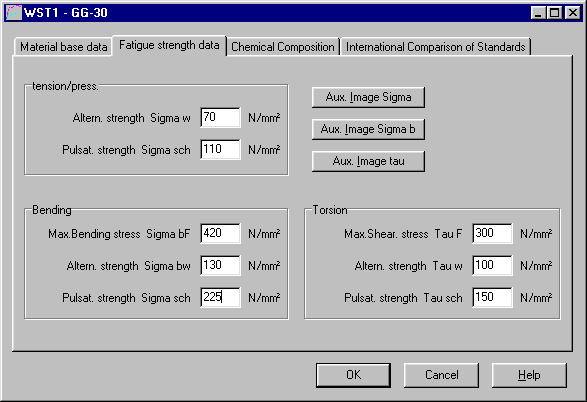 At Version 6.5, fatigue values of some gray cast irons had been added at 2.12.2.99. Please delete the 4 new records at the end of the WST1DYN database of WST1 V6.5, because there came doubts whether the values are correct.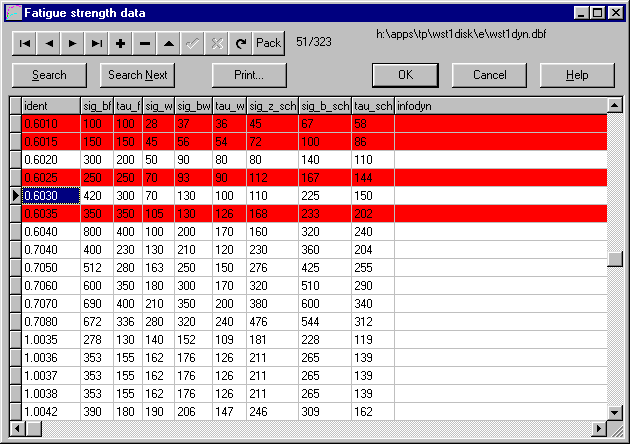 Goto "Database-WST1DYN", click 0.6010, then "-"-button. The line is marked red. Same procedure with 0.6015, 0.6025 and 0.6035. Then click "Pack" to delete the marked records.

DBFCOMP

If you modified or appended records of databases, you will know the problem: When updating to a new version, you either can overwrite the databases and make your individula modifications once more, or you keep your old databases and disclaim eventual changes at the new databases from HEXAGON).

DBFCOMP is a tool for actualization of database files. It compares old and new dbf file record by record. When it finds differences., you are asked to enter the value of the old or new database into a new created dbf file. If it finds new records, you can decide if it should be appended to the new created database.

Our customers may may download the DBFCOMP software for free at http://www.hexagon.de/history/tools/dbfcomp.zip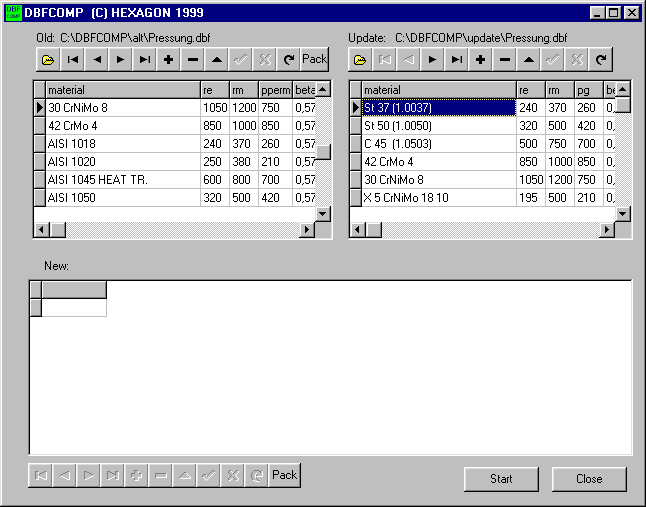 WL1+, LG1
Needle roller bearings without inner ring are now available with complete drawing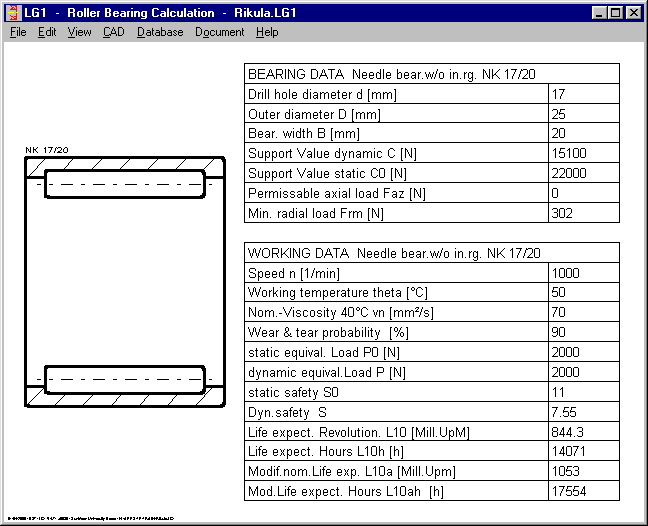 WL1+ Calculation Method
All options for shaft calculation have been integrated to one dialogue window.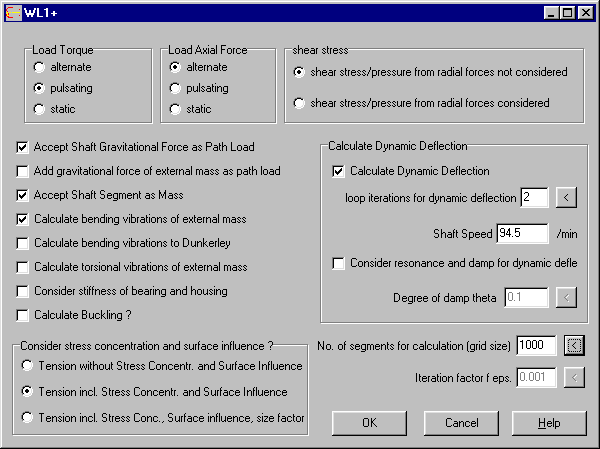 The calculation options are part of the printout now.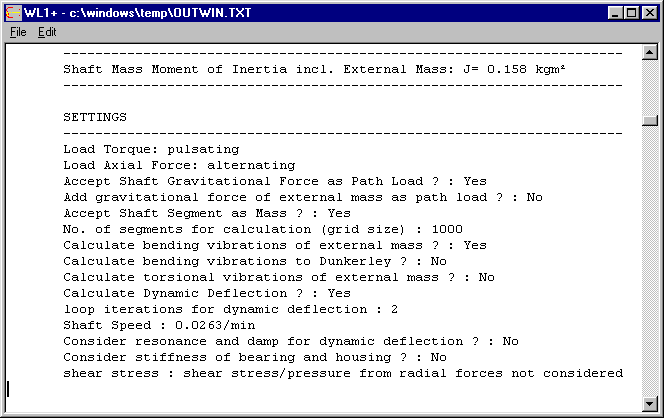 WL1+ Critical Speed from Shaft Mass
For calculating natural frequency and critical speed, mass of shaft segments are used as point mass at the center of gravity. The more segments, the more precise are the results. The new version shows a warning message, if shaft segments are less than 1/5 of the total shaft length, and the option to calculate critical speed is set. If center of gravity is on a bearing position, you will get wrong results for critical bending speed, if only few shaft dsegments are defined. Long Shaft segments must be splitted to several parts of same diameters. The new version of WL1+ has an option "Split Segments" for automatical splitting of the shaft to smaller parts, by defining the maximum lenght of a shaft segment. Thanks to Dr. Schulz from Hilti for this suggestion.
Before Splitting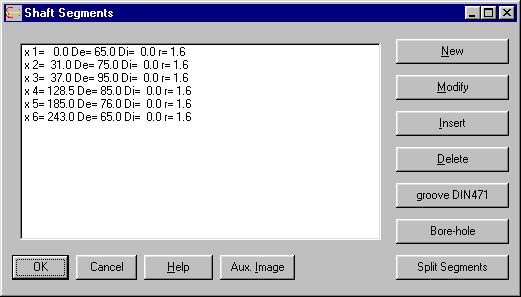 after splitting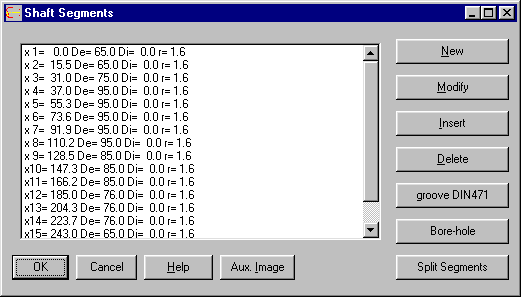 Shaft drawing after splitting of long shaft segmments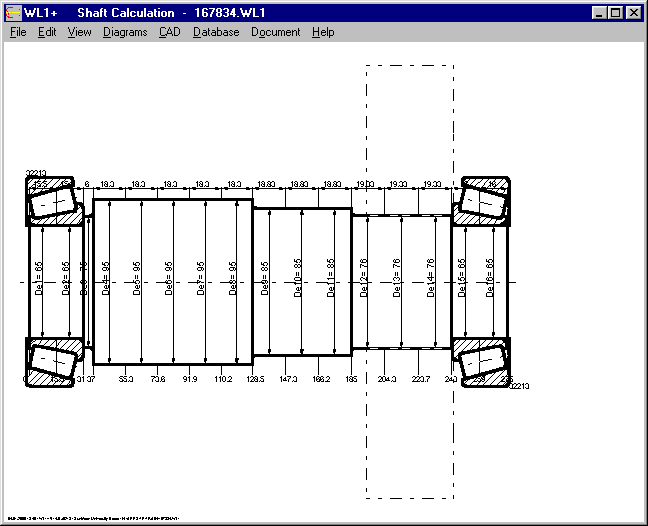 WL1+ 100 Shaft segments
The maximum number of shaft segments has been increased from 60 to 100.
DXF files
If you configured a komma instead of a dot as decimal sign (at File-Settings), this may cause problems with DXF export, because some CAD systems cannot read numbers with komma as decimal sign.
DXF files from HEXAGON software are created with 6 decimals.
Did you know
HEXAGON Engineering Services ?
The HEXAGON Engineering office of Dipl.-Ing. Michaela Körner and Dr.-Ing. T. Körner solves your dimensioning problems by means of HEXAGON Software and other programs. They are specialized in dimensioning any machine elements, especially gear development with dimensioning of special toothing with extra tools, and dimensiong of machine elements by load spectrum.
Adress:
HEXAGON Engineering Services
Weikersbergstraße 42
D-89551 Königsbronn/Zang
Tel.: +49-7328-6927
Info: WWW.hexagon.de/services
E-Mail: Tillmann.Koerner@hexagon.de
New Partners at HEXAGON GmbH
After the tragical death of Horst Giese in spring 1999, two new partners joined the HEXAGON company:
Dr.-Ing. Robert Müller, Voith Turbo Drive Technologies, Heidenheim, holds the HEXAGON seminar "Oscillation and noise properties of gears".
Dipl.-Ing. Alexander Körner, R&D engineer at Voith Turbo Heidenheim, will offfer HEXAGON engineering services together with Tillmann and Michaela Körner.
---