---
HEXAGON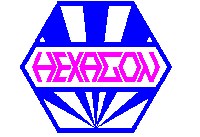 Company Profile
---
History
The HEXAGON Industriesoftware GmbH originated from Fritz Ruoss's Engineering Office which had been working on the development of mechanical engineering software since 1987.
Company
In April 1990 the HEXAGON Industriesoftware GmbH was registered in the Kirchheim/Teck's commercial register. The share capital is 200,000 DM. In 1999/2000, the head quarter moved from Kirchheim/Teck to Berlin (HRB 75188, Amtsgericht Charlottenburg). HEXAGON is now the leader in the market for Machine Element Calculation Software in Europe (>10,000 installations).
Director
Fritz Ruoss, Engineer Mechanics and Informatics
Partners
The partners are not only investors, but also play an important part in influencing the further development of HEXAGON software.
Fritz Ruoss, Engr.Dipl.(FH) Mech.Engr.& Comp. Science, Neidlingen, Managing Director, HEXAGON GmbH
Karl-Martin Kutteruf, Engr. Dipl.(FH) Elec. Engr., Neidlingen, Development Engineer at Robert Bosch GmbH
Jürgen Weissinger, Engr. Dipl.(FH) Mech. Engr., Bissingen, Project Leader at Mercedes-Benz AG
Dieter Feller, Mechanical Engineering Technician, Neidlingen, Technical Designer at FESTO AG
Eugen Renz, Mechanical Engineering Technician, Lenningen, Technical Designer at Papierfabrik Scheufelen
Bernd Schulze, Engr. Dipl.(FH) Mech. Engr., Frickingen, Managing Director, BS Antriebstechnik
Angelika Holder, Book Keeper, Neidlingen, Holder Büroservice
---

HEXAGON Industriesoftware GmbH
Stiegelstrasse 8, D-73230 Kirchheim, Tel.+49 7021 59578, Fax +49 7021 59986
Kieler Strasse 1A, D-10115 Berlin
Mühlstrasse 13, D-73272 Neidlingen
Director: Fritz Ruoss
Mobile Phone: +49 163 7342509
VAT No.: DE 145916893

---
Back to Home Page